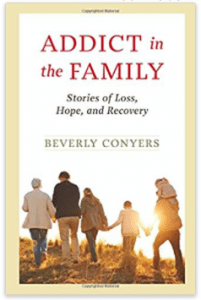 Even when families make the painful decision to distance themselves from their loved one, they can frame their decision in terms of care and support: "We love you. We believe in you. When you're ready to get help, we'll be here for you."
Beverly Conyers offers this wonderful advice and more in her excellent book: Addict in the Family – Stories of Loss, Hope and Recovery.
She takes the hand of family members and guides them in understanding addiction, finding compassion and offering healthy support to the alcoholic. More importantly to me, she helps family members detach with love by refocusing their energies on their own lives, hopes and dreams. Conyers is one of my faves! Check out the book from here through my affiliate link: Addict In The Family: Stories of Loss, Hope, and Recovery.
If you make a purchase, I'll receive a commission at no extra cost to you.