New Year. New news! After my home was featured on Apartment Therapy last december (see post right below this one), I was invited to join a collective of interior decorators & landscape architects & exterior space designers here in Austin. It's a dream come true!
I'll now be using my creativity in a new and exciting way: I'll be helping my clients design and create their own signature nests…through the thoughtful use of art, design, textures, textiles, budgets, vintage finds, treasures, new furniture and more. A process that can take anywhere from a delightful afternoon to a carefully curated lifetime depending on my client's time and budget.
The invitation to join Spark Interiors…to embark on a new chapter in my creative career is so thrilling. I have very much missed collaborating with other people creatively on a regular basis. This is my sweet new chance to spend more time in the world and a little less time in the studio.
to be sure, i'll still be busy in my pippingtooth studio…plotting and planning rooms & spaces and creating one-of-a-kind decorative accessories, art, ceramics and repurposed wonders for my happy clients.. but i will be taking a break from the retail part of pippingtooth for a while. so, yes, my store will be under the mulch (closed) for a while. at least until, i get my paint swatch fans firing on all cylinders.
for now, i'll be sharing my weekly Spark Interiors posts with you here. every monday, i'll be using my creative eye to source great finds and pass along any deals and must-have-finds with you. and i'll even be available to do some online e-decorating with my sweet clients. how cool is that? You send a picture. We gab. I'll send you links & ideas.)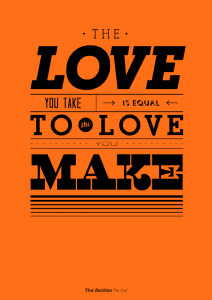 Grab your hammers and picture hooks, kids! Give your walls a new twist in 2011 with these silkscreened posters featuring music lyrics & fab typography over at Music Philosophy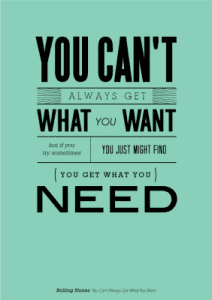 The talented creator of these marvy hits is based in the UK and introduces himself and his work thusly:
"Hi. My name is Mico. I am a designer. I like music and typography. So I combined them on this Project because I had nothing better to do."
How droll and delish!


In my next life, I fear my house will have no windows…only walls…so I can satisfy my passion for art, art and more art. Or maybe i'll fancy a double-sided framing system for displaying ON windows. How about a huge picture window with a poster featuring Johnny Nash's "I can see clearly now the rain has gone." facing in. And this wonderful poster (thanks to The Mouldy Peaches) facing out for arriving guests to see:


Thank you, Mico. Wonderful work. Love, Love. Me Do.
curlin