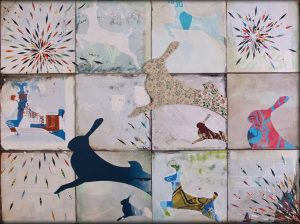 oh how i love this time of year, when dreams and visions of the christmas bunny dance in my head. oh what fun it is to think of him dashing through the snow, bells on bob-tail ringing. carrying presents in his little satchel to hide under christmas trees hither and yon.

but what is one to do when the christmas bunny comes early…with a present too big to hide? if you were me what would you have done?

there i stood. gazing upon a wintery-bunny-reindeerish-starry wonderland of a piece of original art by artist,
satch grimley
. clearly the christmas bunny had made sure only i would find this gift… hidden within the warrens of artist studios featured on the East Austin Studio Tours. As i gazed upon this wonderous (starry…don't forget starry) gift… a chorus of angels (my friends
sue lambe
and
laurie wisbrun
) began singing the praises of this wonderous work of art. what was i to do? refuse this gift? mais, non!

in a state of wonderous awe, i began to write my name on a slip of paper (okay, it was a personal check). no sooner had my piece of paper fluttered to rest upon the table, (much like a snowflake upon a winter's night) when none other than, satch grimley himself (merry old elf if ever i saw one) plucked it from the its resting place and, as if by magic, read my name aloud!
"i've won!," i thought to myself. "The christmas bunny is real! i do believe!"

and so it was, that once upon a saturday clearly, i learned the true meaning of christmas in november, the real magic of the christmas bunny, and how peace on earth and goodwill towards an unsuspecting husband (who no longer has to think up a christmas present for me) shall prevail upon the land!!

God bless us, one and all!