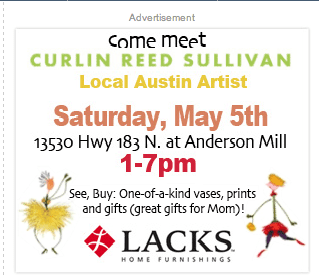 several months ago i received an email from a wonderful woman named, janey lack. she and her husband, melvin, own lack's furniture stores all over texas.
fast forward to last saturday.
as you can see janey and melvin de medici took me under their wing and hosted a wonderful day in their austin store featuring my art.
to top it off, they sent out over 300 invitations and featured my art with an ad & my animated flowergal dancing across the home page of the online austin american statesman.
janey and melvin's generosity knows no bounds. and lucky artist me, i know what it feels like to have patrons: marvelous, flattering and inspiring.
michelangelo surely never knew patronage as warm and grand as the texas version the Lacks bestowed upon me.
to janey, melvin, karen, julie, david and the entire lack's team, thank you.