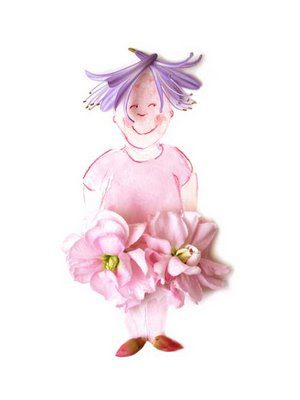 thanks sooooo much for taking time out of your busy business to stop by.
in case you're wondering, i create all my botanical character studies using a combination of fresh flowers, a splash of watercolor and a good old fashion digital camera. the "original" piece goes the way of all gorgeous flowers eventually. it simply breathes a deep sigh and quietly wilts away.
so the pieces that you are buying are prints of the original creation that bloomed on my table once upon a time.
there are so many new things blossoming in my studio right now. this bit-o-pink flowerchild en tutu is part of my new upcoming series of FlowerChildren.
i'm also excited about our upcoming online Pippingtooth Bouquets we'll be offering.
you'll be able to send gorgeous hand-tied bouquets of fresh flowers to all your friends. and each bunch of flowers will arrive with a piece of my art…or a box of lovely assorted pippingtooth notecards or one of the new line of one-of-a-kind ceramic vases i'm currently working on. working on these is making me crazy happy these days.
if you'd like me to know when new things are introduced, simply send an email to: studio@curlinreedsullivan.com
just put the word "sign me up" in the subject line and i'll pop you on my mailing list. (don't worry, i don't give any of your info out to other folks. promise.)
thanks for stopping by the studio.
candy, candy…i love candy.
curlin