it's finished!
i'm just starting to move stuff in. don't need dolly for heavy lifting as i simply float up the stairs. (check out orange chairs! found 'em at the citywide garage sale…two for a steal. i think they were meant for pippingtooth. desk was found the same day)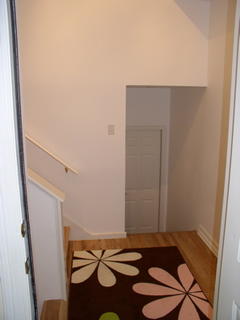 this is the entry to the studio. look kinda pink, but they are actually white, white, white. this'll be the stairway gallery. i'll be hanging the works of other artists, illustrators that make me swoon. i think it might just be the teeniest, happiest gallery in the western hemishphere. look for the work of shari elf, andrea uren, danielle young, camilla engman…some of my favs to be hanging there soon.
and here's the view looking west from the studio.
thanks to isaac mizrahi's brilliant shower curtain design my studio bathroom is too dreamy for words. i know. it's over the top. will now go keel over with joy.
more pics to come.