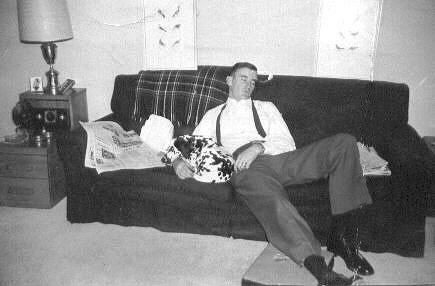 i'm soooooooo lucky.
that sweet fellow you see sprawled on the couch with the dalmatian is my dad. over 40 years ago. you can tell a lot about him from this photo. he's tall as can be. he's easy going. he's a reader. he's mushy about our dogs. he's a skilled napper. and as my mother would've been quick to tell you, he's just completely adorable.
there are lots of things you can't tell from this picture though. you can't really tell how much he loves to sit and visit or that his nickname is Spider (at 180 pounds and 6'6″ tall…he was all arms and legs). or that he's a loyal friend. a truly honest and trusting person.
he's all that and more and i bet i could list about a million things we all love about him. so here's a start…
he has a wonderful laugh and we hear it often.
i've never seen him surly or in a rotten mood. (angry, rarely. but never moody.)
when he's sick, he's like a dog. if he could fit under the porch, he would. just lying there 'til the malady leaves him.
he loves his country in a thoughtful and realistic way.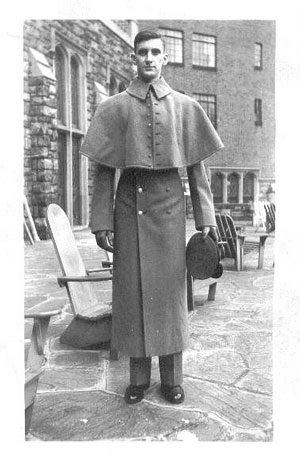 he's a west point grad and retired air force colonel who set air speed records as a pilot.
he is gentle.
when he talks, he builds stories in the air…his hands and long fingers like sturdy planks in the construction of a funny tale or a childhood memory.
this great big man loves teeny little ruby-throated hummingbirds and usually has a feeder for them somewhere by a window.
he burns to a crisp in the sun,but he's been happily taking our family to the beach for 50 years because my mother loved it so and his children counted on it.
he cries when he feels things deeply.
he plays cribbage and gin rummy with my brothers and in doing so has taught them the fine art of a good and gentle ribbing. it's an antiphonal joshing sung between my brothers and my dad all week at the beach. if our life together were a movie, it would definitely go on the soundtrack.
he has wonderful childhood memories and family stories he shares with pleasure.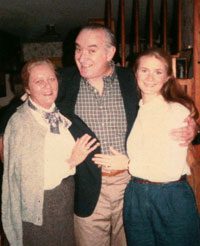 he and my mother said i could do or be anything i put my mind to.
he nurtures his friendships and is really great about calling often for updates.
he's looks on the bright side.
he believes it's a privilige to work and is fond of saying "if you love what you do…it never feels like work."
he loves to enjoy great meals together.
he welcomes people into his home.
he cannot carry a tune and his jokes about it are perfectly pitched.
and he loved my mother unconditionally as she did him.
yup…i could go on and on. in fact, i think i'll add to this list right here from time to time.
i also think i have to get to atlanta as soon as possible to spend time with him and to tell him all these things i love about him.
i am sooooooooo lucky…