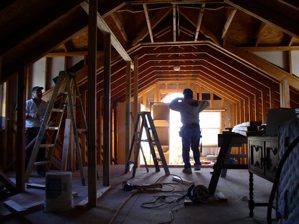 sing "eeeeeeeeeeeeeeeeee" with a little bit of a mary tyler moore trill and a great big smile on your face and you will now exactly how excited i am. we're finishing the attic space over the garage for my studio. it's been studded in for years and now the transformation begins!
i'm covered up in magazine pages i've pulled out over the years with all the little tweaks and twists i always thought i'd put into a studio. suddenly i'm leaning toward a very white very spare gessoed room with blasts of color. right now i'm leaning toward raspberries and candy pinks because i've never used them anywhere before and this is going to be artsy girlie space. might have to throw in a bit of spring's first greens, too.
this is the view when you come up the stairs and you are looking east!!!!