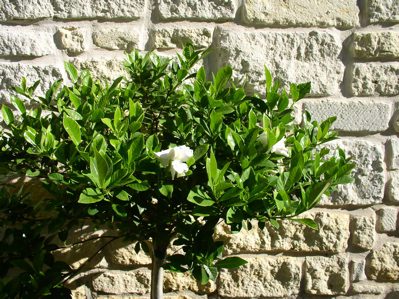 i've written before about my mother's way of saying hello through dolphins at the beach ( it's in the entry entitled "a whisper of butterfly wings"). gardenias are her other way of sending love from heavenly realms. they were her flower. she carried only gardenias in her wedding bouquet. she loved them and passed that love on to me by always decorating my angel food birthday cakes with pink frosting and white gardenias.
can you even think of anything more heavenly and beautiful for a little girl's cake?
mom's birthday is november 6th. and i always spend that day thinking of her. and missing her with an ache that settles in my bones. true to her sweet spirit…she sent a gardenia bloom this week. two days after her birthday and the day after i wrote in my journal that i was missing the ocean and thought the dolphins (and mama) must be calling to me.
last year, elena and i planted a gardenia for her in my little kitchen garden right off the back porch. it bloomed on mother's day last year and i knew she was with me.
gardenias typically bloom in june. but mom has other plans. she sent a bloom to me on the morning of sept 11th 2001. i remember sitting down on the steps to see a lone unexpected bloom and saying…"hello there, mom" i had no idea that hours later i'd live through a day feeling the strongest need ever to be comforted by those i love.
the year before, mom graced us with october blooms during the weekend my brother senour married his sweet camille.

when i told elena about mom's latest gardenia hello…she said, "you know the name of that particular variey is 'first love'."
why doesn't that surprise me?